Complete redesign and rebranding for Ontario's Doctors and Surgeons
The College of Physicians and Surgeons of Ontario is an association that regulates the practice of medicine in Ontario by setting qualification requirements and standards of medical practice and professionalism for doctors. CPSO came into this project with an out-dated website that lacked in organization of content, function and design. The focus of this project was to design and build a completely new website that highlights the main user goals identified by CPSO stakeholders and Persona Research.
Challenges
The previous CPSO website had thousands of pages, a search that did not function and a menu system that was difficult to use. Frequently, users would resort to Googling information on the site to find what they are looking for to avoid the hassle of navigating the website.
For our part, we saw this as an opportunity to help them revamp their site architecture (site map and information architecture) and help strategize a new user focused navigation, design and overall experience.
Scope of Work
Goals
The top goal of the website rebuild was to implement the persona research into a highly functional website. Being a medical site that is mainly used for information we wanted to ensure a strong UX that used a minimal design that wouldn't rely on images or icons to bring interest to the content.
Another major goal of the project was to use the site search to locate documents. Frequently visitors to the site would use Google search engine to find documents on the website. We wanted to ensure this function was contained within the website so that users no longer needed to rely on google to find information.
Wireframes
We wireframes over 15 templated pages to ensure that we addressed all the current and future needs of CPSO. By creating high fidelity wireframes we were able to create a really strong base for the site. It ensured that when we entered the design phase we had a strong foundation to work from. Testing user journeys in the wireframing stage allowed us to catch any problems early and make the necessary changes.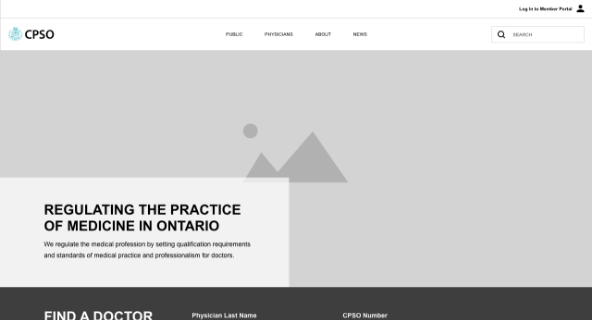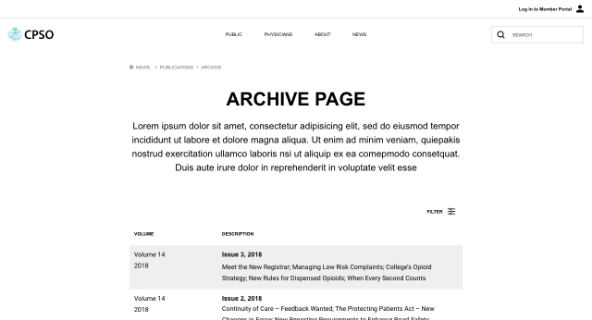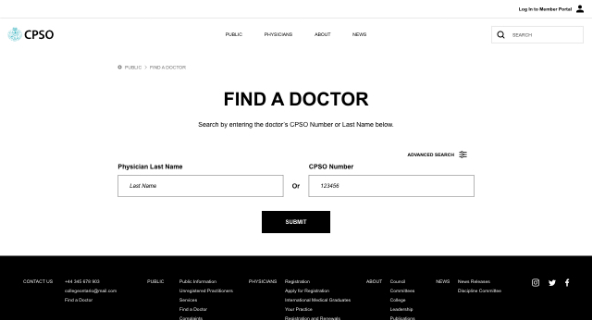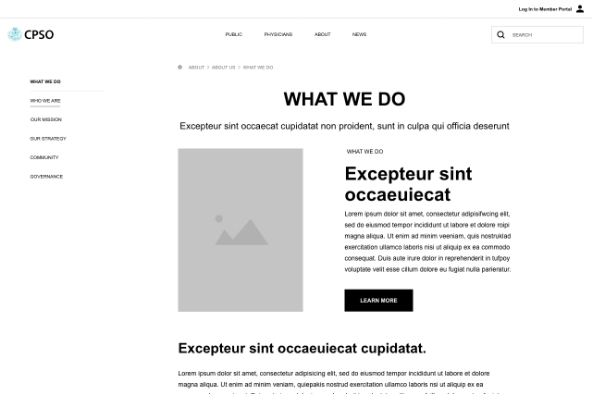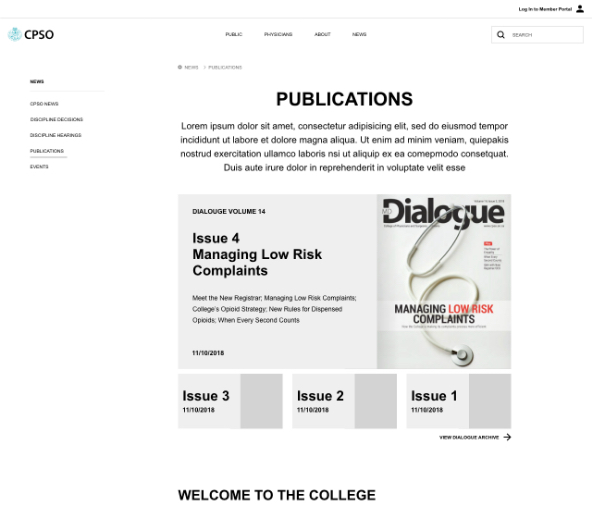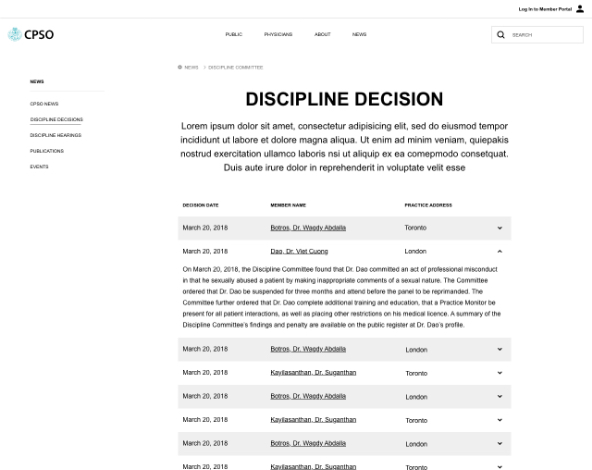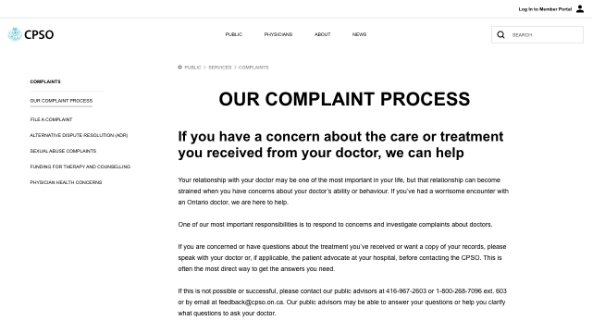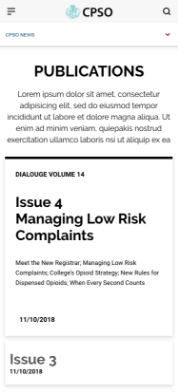 Design
Designing the CPSO site had a few things that needed to be taken into consideration before going wild with colours, imagery and icons. First, it was a well recognized brand by it's users and we needed to ensure that carried over to the new design. Secondly, we had to design for accessibility meaning that all the colours for Fonts needed to have the proper contrast ratio to ensure readability. Finally was consideration for a content rich site that needed more subtly in the design then bells and whistles.
The CPSO design passes AA accessibility standards with proper contrast in colours and legible font sizes.
Logo Revamp
Before tackling the design we needed to update the CPSO logo to work in a digital world. The logo is a crest with a lot of detail and is great for printed documents when you have a static media and give the necessary real-estate to feature it. However on a responsive site where the image needs to scale up and down the detail was being lost and became eligible.
Before
After
The new logo is a simplified version of the original, with a modern take and digital focus. Taking the most important elements from the Crest we carried over the Ontario Leaf and flag, crown and ribbon. We then simplified the medical tools into the universal symbol for medicine. All contained within a simple shield. Paired with just the CPSO acronym so that it can be used at smaller sizes.
The update stayed true to what users know but makes it more adaptable for web and digital use. It was the base for the new website design and lead the rest of the branding.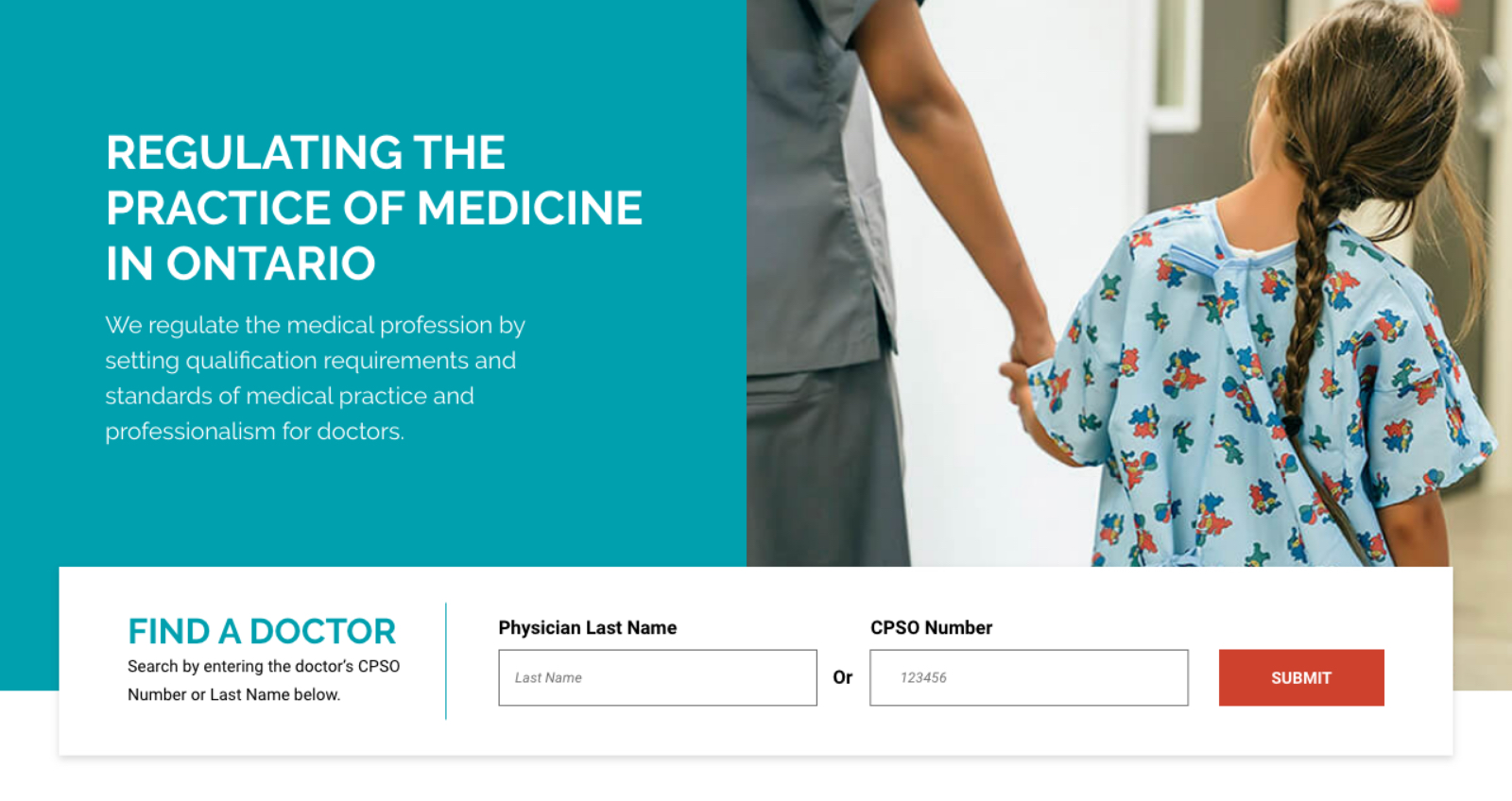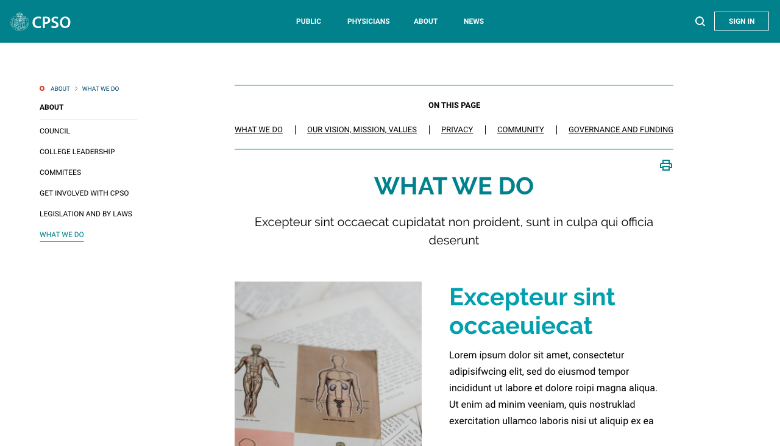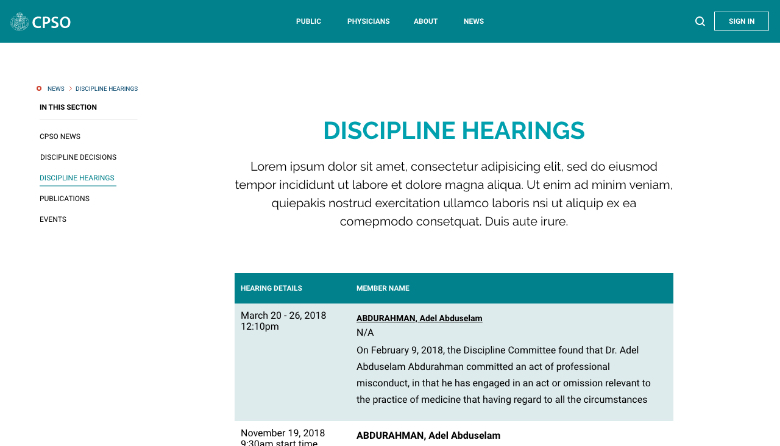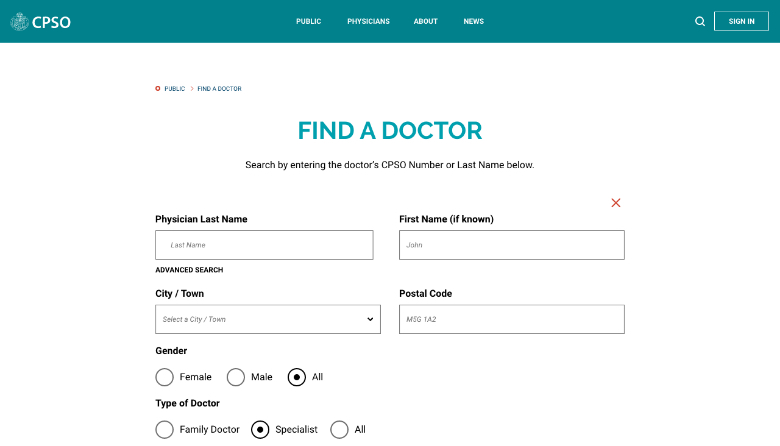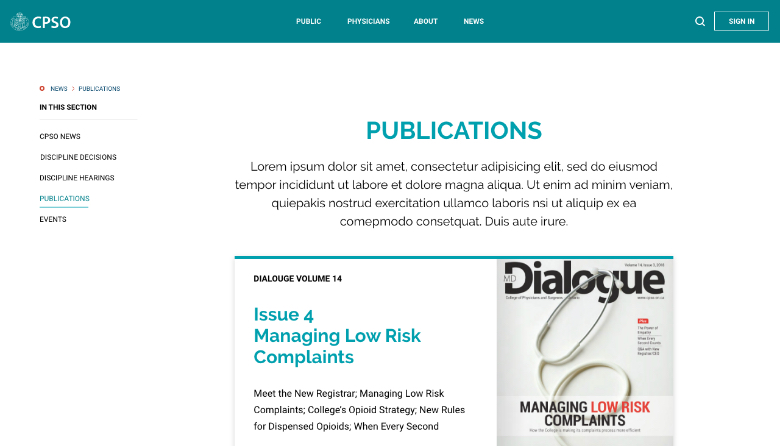 Clean design with lots of white space to ensure the focus is on the content of the site and users aren't distracted by overpowering visuals. We also brought in a darker Teal to pair with the Lighter CPSO Teal to pass the AODA AA contrast standards.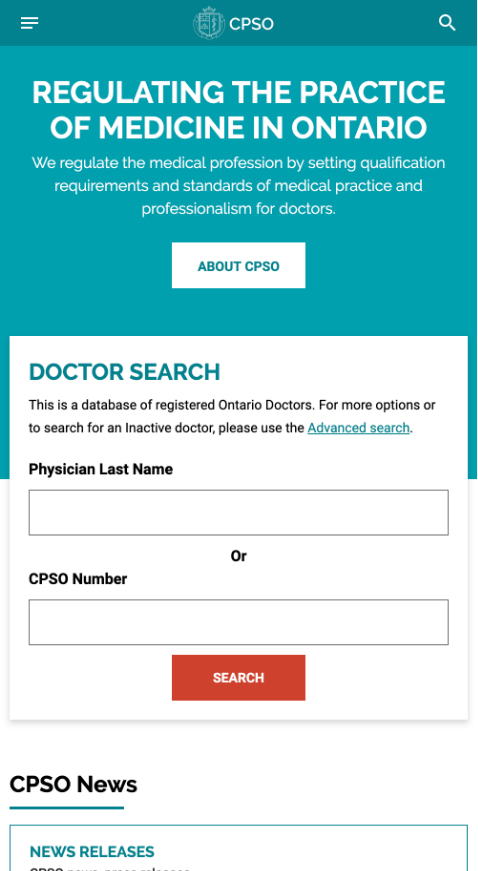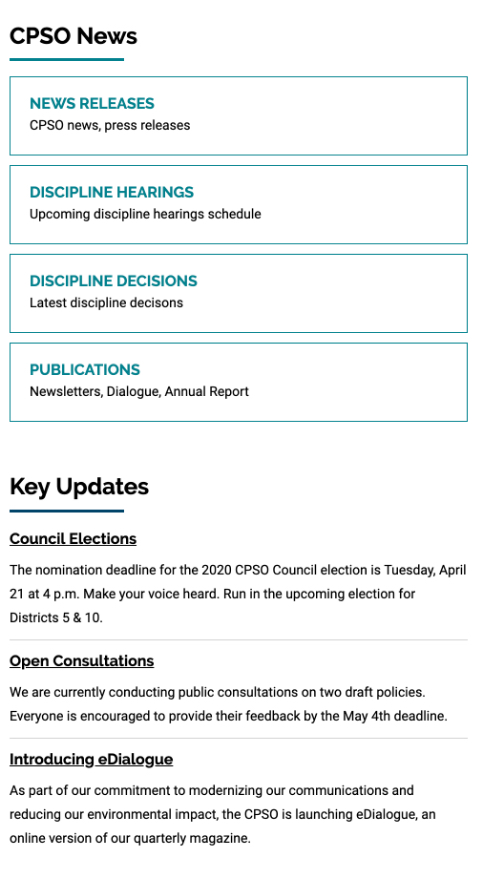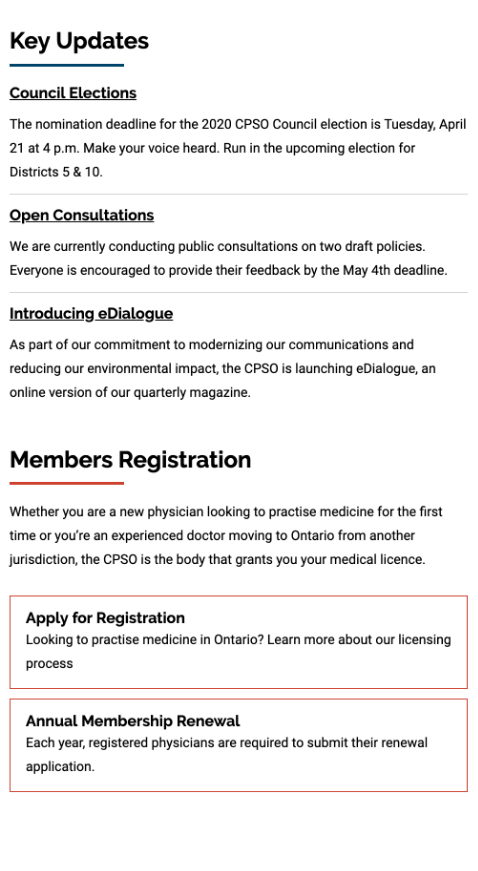 Results
CPSO is extremely happy with the website we built them. They are aware that updates to the MVC platform will eventually replace certain pieces that we have built but they have found content easy to edit and having everything on one tab in MVC is seen as even easier to use than portal engine.

Users of the new CPSO website are also incredibly happy with the smart search on the website. Not only are the results relevant but they are now consistent and content is easy to find. No more searching through google to find things on this website!

Last but not least we have seen a dramatic increase in the speed of the website with MVC. Preview mobile speed tests ranked the site are 45 and now we are getting 84 on google page speed tests.
Key Criteria for Using Kentico
Kentico was chosen for the new CPSO website because the organization has been working with the CMS on their previous website. Content editors were so impressed with how easy Kentico made content editing they did not need to be sold on it as a CMS. The only question they had in their mind was whether they should choose Kentico portal or MVC.

MVC was chosen instead of portal engine because portal engine support was no longer available after 2019 and they wanted a solution that would be futureproof.