Share
Kentico EMS edition allows you to leverage its built in online marketing features with the structure of the content management system to allow you the ability to deliver your web visitors customized content.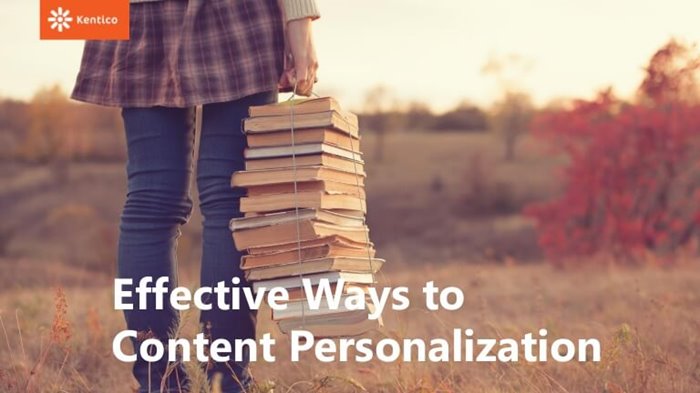 How does it work? How does Kentico know the difference between a first time visitor and a person who is about to turn into a client?
Kentico uses a lead scoring system to score all your web visitors. This system is based on assigning numerical values to different attributes and activities of website visitors. The Lead scoring system is developed by you and can be as complex or simple as you want it to be but it should be in line with your digital marketing strategy for maximum effectiveness. If the goal of your website is to sell a product you wouldn't score a visitor adding an item to a cart the same as you would score a visitor reading a blog article. Similarly if the product you are selling appeals to middle aged women you wouldn't score their visits the same as you would elderly men.
Here's an example of lead scoring where a rule is being created that scores a visitor 5 points for having manager in their job title: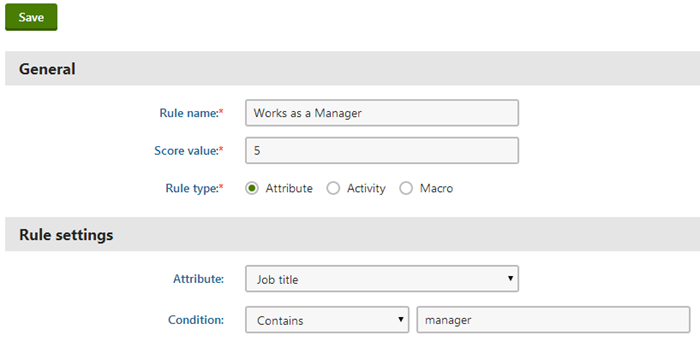 So now that you have a sense of the lead scoring works let's now turn our attention to how Kentico manages contacts.
First thing to know about the contact management process is that Kentico treats all visitors to your website as contacts regardless of whether or not they have submitted contact information. When an anonymous visitor has visited your site a profile of their activities, scores and location automatically gets created. All of this information is stored and managed in the contact management application in the back end. Once an unknown visitor submits their contact information to your website that information is automatically added to their previously anonymous profile. This process allows you to start building up information on your contacts right from the start of their interaction with your website.
The idea here is to get a 360 degree view of your contacts and appeal to their needs at every stage of the customer life-cycle. These stages can be defined by point thresholds and how you segment your contacts. Just as the system automatically adds the contact information to an anonymous profile it can also automatically graduate a "warm lead contact" into a "hot lead contact" if a point threshold reached. You can define these segments in as many different ways as you want and in turn you can use this information to better target your audience and tailor your web content to the specific interests of the audience that is viewing it.
Yes, that's right you can personalize the content of your website by dynamically changing how it looks. This feature is built into the actual web part zones on the coded website. Allowing you to customize the experience of your visitors by displaying content that will be most interesting to them.
Say for example you have determined that the "About Us" banner on your homepage is not effective for a user that has visited your website before. In order appeal to this customer you could create a variant of the banner with different messaging that would automatically get triggered by a contact that meets the requirements of the segment. This kind of personalization can be very powerful and quite extensive. One of the best parts of this is that this process can be done at any stage of the users experience on your website making your website an evolving experience that is tailored to the needs of the customer.
Pretty cool right?
We think so... but we are just scratching the surface!
We will be tackling some of the other great features of Kentico Online Marketing Edition in the upcoming weeks!
Other articles about Kentico EMS:
Why Kentico EMS Should be Your Online Marketing Platform
Marketing Automation With Kentico EMS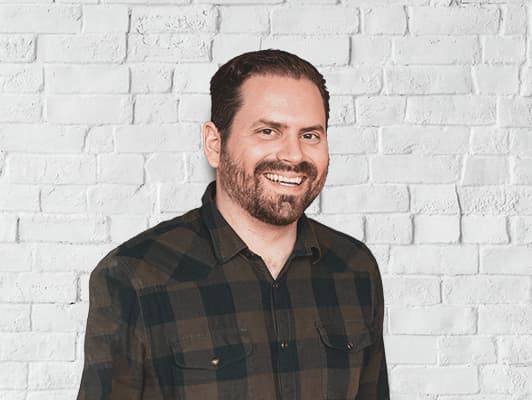 Alex
Senior Project Manager
Alex has over 10 years of experience managing digital projects with a background in Psychology and Web Design.