Helping OAC foster the creation and production of art for Ontarians
Ontario Arts Council (OAC)is an agency of the Ontario Government. For more than 50 years, OAC has played a vital role in promoting and assisting the development of the arts for the enjoyment and benefit of Ontarians. In 2015-16, the Ontario Arts Council funded 1,676 individual artists and 1,125 organizations in 209 communities across Ontario for a total of $50.5 million.

Objectives
The of the OAC website project project was to plan, refine, develop and deploy a new and improved arts.on.ca website to deliver a superior user experience. The site needed to be accessible, bilingual and integrated with the Nova grants management system. To ensure efficient and effective ongoing management, the new OAC site had to be powered by powered by an easy-to-use, robust content management system.

Challenges
Our main challenge was to integrate an online grants system and its data to the public facing website. Effective integration would address issues concerning accessibility to the core content of their website, granting program and application content. The website's primary users, current and potential grant program applicants, were not well served by the site as it existed . With the introduction of a new online grants system, the challenge was to make it easier for users to find the granting program data that resided on a third-party system. We also needed to address the need for responsive design and better user flows to access different content types such as news, publications and grant results.

Scope of Work
Our Approach
Our approach included a complete site redesign, integration with a third-party grants management system, a new, improved search function and many custom page types, each with its own search capabilities. All of this needed to be compliant with the guidelines defined in WCAG level 2.0 AA.
Need to add in a little about Kentico here… all the below is pretty technical. Can we help preface this with something like:
We chose the Kentico EMS platform to build the new OAC site. The built-in functionality Kentico EMS offers in its content management system allowed us to build a robust, efficient, high customized solution for OAC.
The third-party grants system data was integrated through a custom synchronization script leveraging the CMS scheduled task module and the custom tables. This approach allowed flexibility in the search functionality. The Kentico API allowed the solution to be extended easily, since pages in the CMS were linked to records in the custom table, allowing editors to link the two with a dropdown menu selection via a customized form control.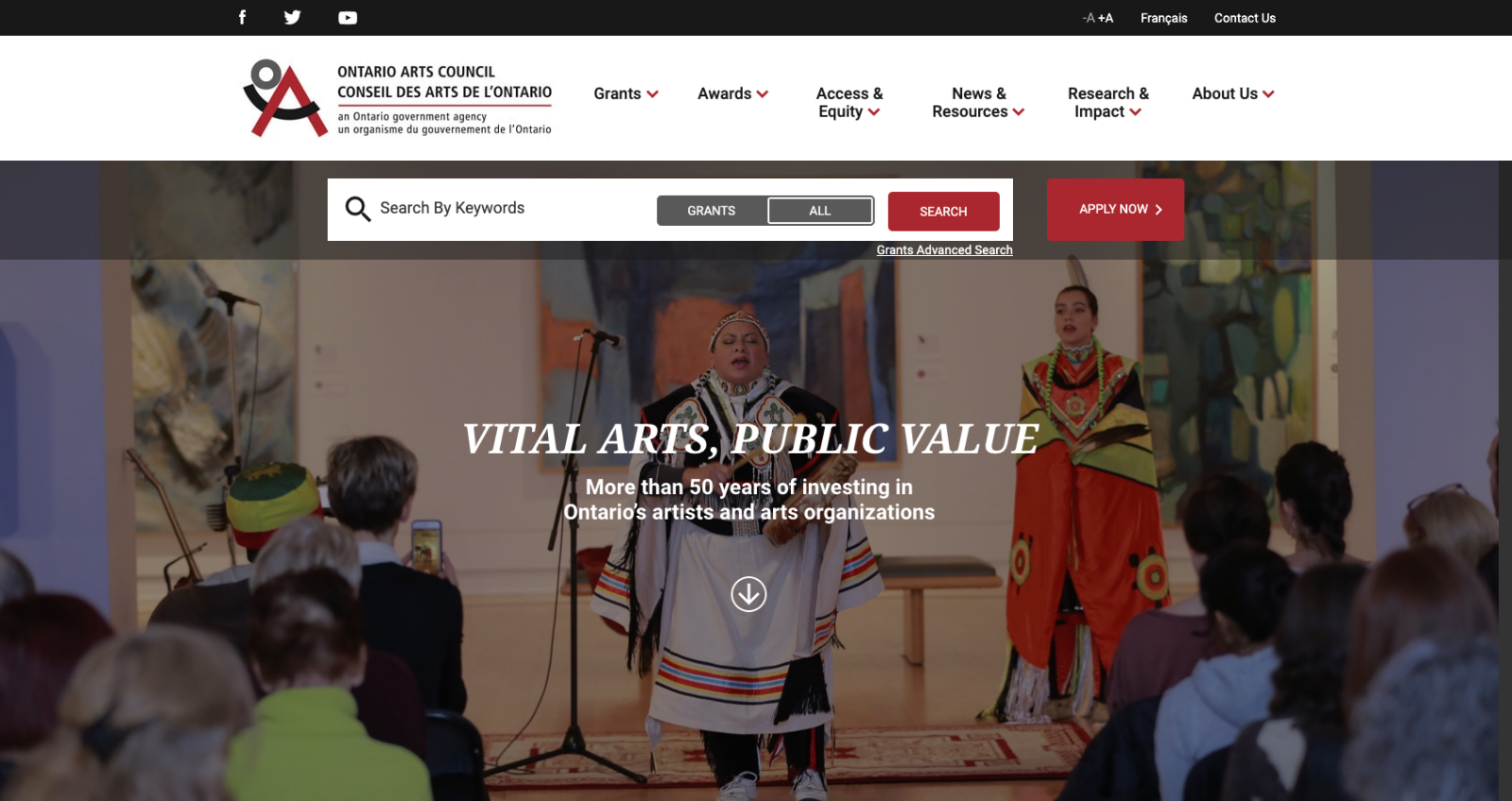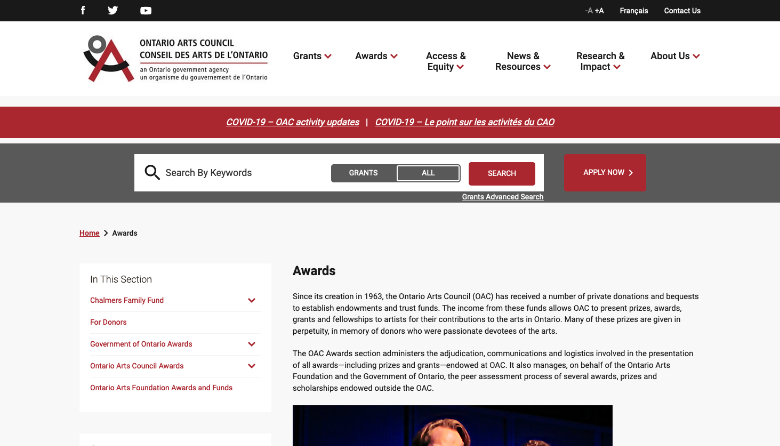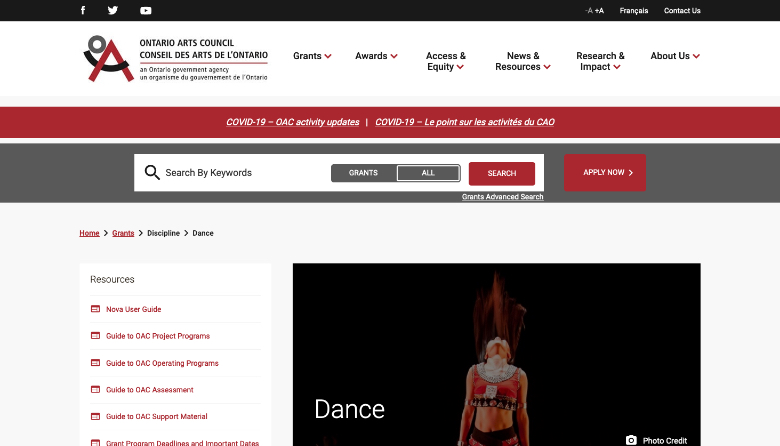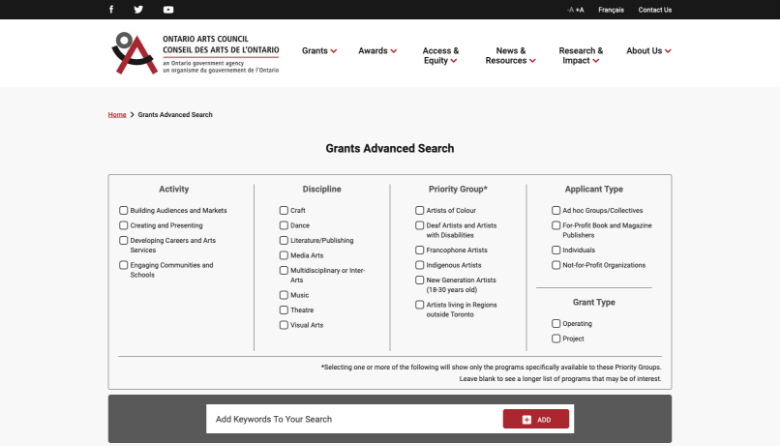 Kentico EMS provides the capacity for WCAG validation for editors to validate whether their content is AODA compliant. AODA compliance requires WCAG level 2.0 AA compliance. In addition, the Kentico content management system provides the capacity to add alternate text for links and images and appropriate headers in the content area without compromising the design.
As for improved user experiences and automation processes, workflow, versioning, localization, page templates, page types, widgets, among others, helped make the solution quicker to customize and extend as these were all modules that were available by default in Kentico.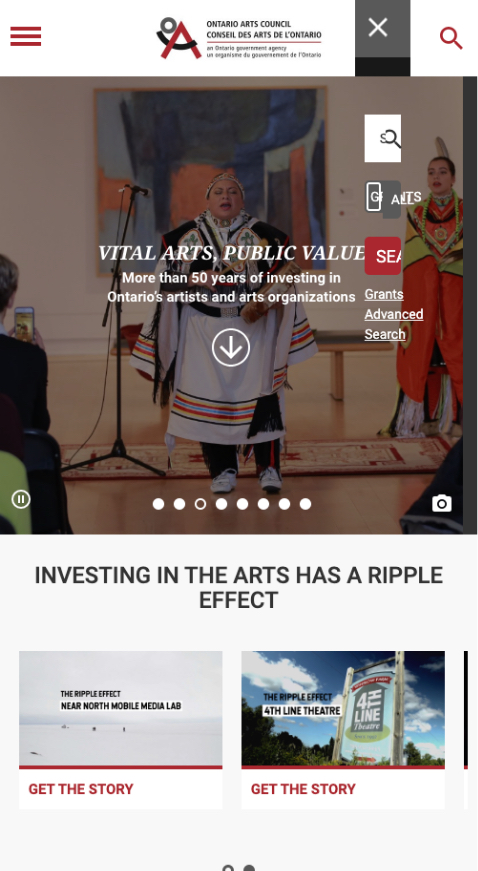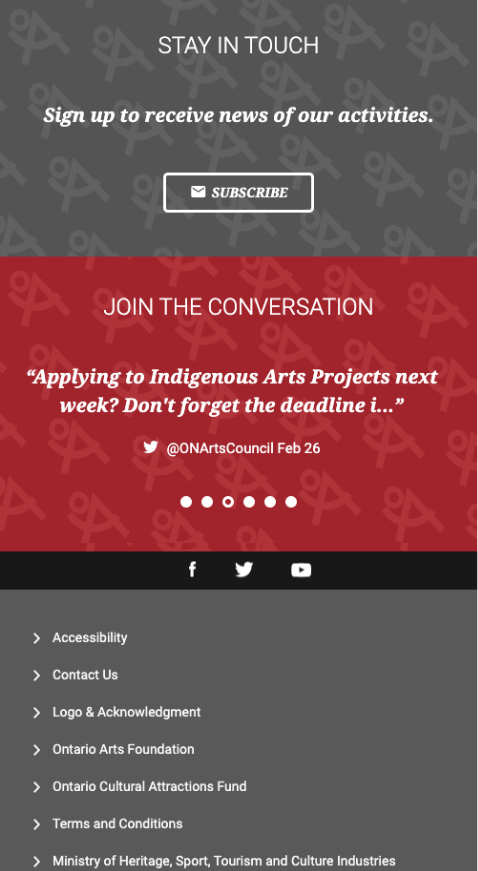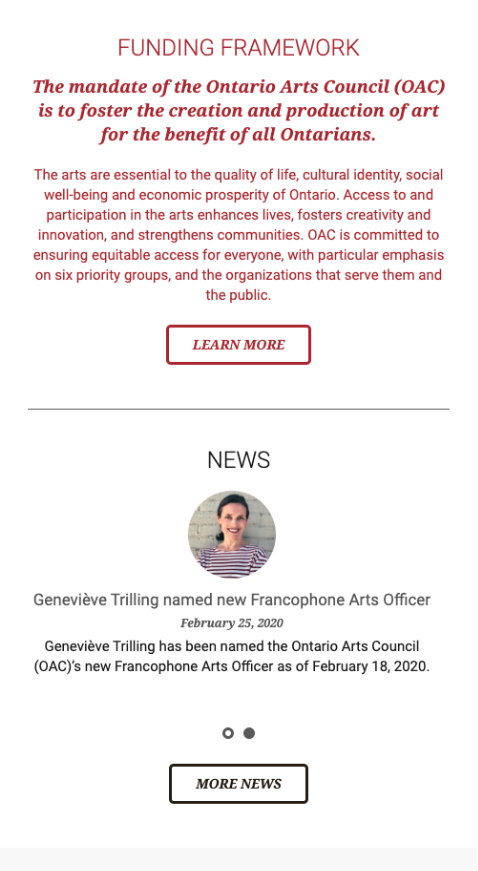 Results
The immediate feedback from stakeholders and public users has been overwhelmingly positive.
The new Ontario Arts Council website has been recognized as one of the Top 10 Kentico websites
As a result of implanting Kentico EMS for the rebuild, we were able to achieve significantly improve page speed and performance. Straight A's for all key indicators from Webpagetest.org.

"We are thrilled to be live. The site is amazing and I've already received all kinds of compliments from people at OAC and outside.
I have to say it has been an absolute pleasure working with Charles, Sean and Matt through this process. You have an excellent team."

Curtis Deprez, Project Manager
Arts Council of Ontario