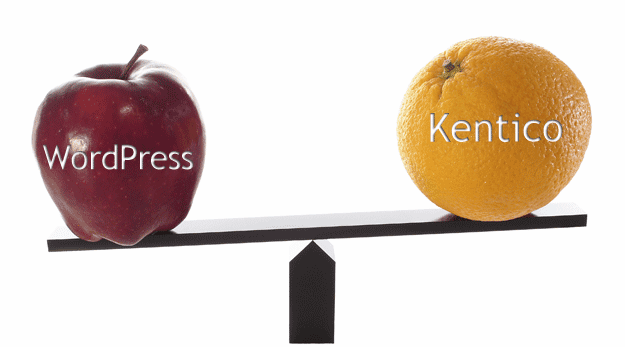 Comparing Worpress with Kentico is like comparing apples to oranges. There are roughly 75 million Wordpress websites compared to only 25,000 Kentico websites. But don't let the extreme popularity of Wordpress suggest that it is the right CMS solution for your project. There are a number of other factors you should consider when making a decision between the two CMS's. In this blog we will break down the reasons why you should choose Kentico over Wordpress for your project.
1) Open Source vs Closed Source
When deciding between the two CMS's the first thing that shoudl be looked at is whether or not you want to go with open source solution (Wordpress) or go with a closed source solution (Kentico). Open source basically means that the code is open to a developer community to build on and the solution is free for anyone to use. This may sound like a great thing but the but it also leads to reduced flexibility in the CMS an over reliance on the developer network to produce plugins to fill the functionality gaps as well as a major lack of quality control.
Kentico is one cohesive CMS solution Wordpress is not. Kentico comes feature rich out of the box. There is rarely a need to rely on 3rd party modules. Not relying on 3rd party modules means not having to learn how to use other systems and a lot less hassle when it comes time to update to a newer version.
2) Easy to customize:
Kentico is designed to make customization easy. Rich complex sites actually take less time to build in Kentico than they would in WordPress.
3) Security:
Kentico is more secure than WordPress. WordPress sites often have security exploits that require additional plugins; Kentico sites are secure right out of the box.
4) Not Just a Blog:
Kentico was created as an all-in-one solution; WordPress was not. WordPress wasn't built to accommodate multiple editors working with lots of content. Kentico was built with complex versatile websites in mind Wordpress was started as a blogging platform designed to accomodate the goals of the personal blogger.
5) Content Editing:
Kentico offers an easier content editing dashboard for CMS users. WordPress sites with plenty of functionality become increasingly difficult to edit. An editor often has to go through numerous processes to make what should be a simple edit. With Kentico, the editing experience follows the same process for the CMS user, regardless of the size or complexity of the site. You'll always visit the same parts of the administrative area to create new documents, and they'll all be edited the same way.
6) Media management:
Kentico makes it easier to manage media such as photos, videos and PDF files. Kentico features a built-in media library with an organized folder structure, whereas WordPress lumps your files into month and year folders by default. Updating images that were uploaded more than a month ago in WordPress requires an FTP program.
7) Speed:
Kentico sites are designed to load more quickly than WordPress sites. Kentico's advanced caching functionality and minimal code loading mean the pages load faster. WordPress doesn't support caching without implementing external plugins, and page loading speed often degrades with the installation of each 3rd party plugin.
8) Support for General Data Protection Regulation (GDPR):
Kentico's Data Protection app is highly customizable to help you comply with even the strictest data protection regulations, such as GDPR and PII. It can handle right to access, data portability, and right to be forgotten, and even track the consents on your website, helping you avoid unpleasant fines.
Ultimately the biggest reason to go with Kentico is our clients love it!

Not convinced, give us a call and we can schedule a no obligation demo or visit Xperience.io to learn more about what it has to offer and why its running 25,000 websites worldwide.