A streamlined member experience
Dietitians of Canada (DC) is a national professional association that represents dietitians. DC has over 5,000 unique and diverse members nationwide and strives to promote nutrition, health and foster growth in the industry through advocacy, professional development and engagement. The mandate of the association is to advance the health of Canadians through food and nutrition.
Challenges
Information architecture needed to be restructured and consolidated. Information for members was mixed in with public information and presented in different ways which made things confusing and redundant.
Integrations and Single Sign-On. The new Dietitians website needed to seamlessly integrate with SalesForce for members pages, downloads, registration and payment. The new website also needed to display memberships and unlock member community pages depending on membership type and journal access. All of this would have authenticated through Salesforce.
Scope of Work
Goals
The focus of this project was to redesign the website to be consistent with the Dietitians of Canada brand and consolidate DC's web properties to integrate their new website with Salesforce in a way that supports the digital strategy.
Wireframes
The goal through this stage was to build out a strong base for the whole design to be built off of. We design hi fidelity wireframes to ensure that the structure of the website is as fleshed out as possible before entering the design stage. Re-working the site navigation was a priority for this site and we spent a lot of time prototyping and wireframing out different options for the navigation to ensure it made sense for users coming to the website.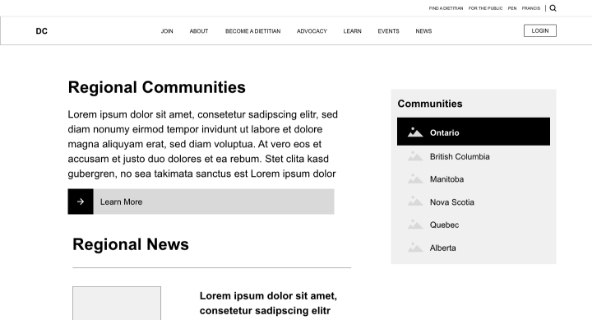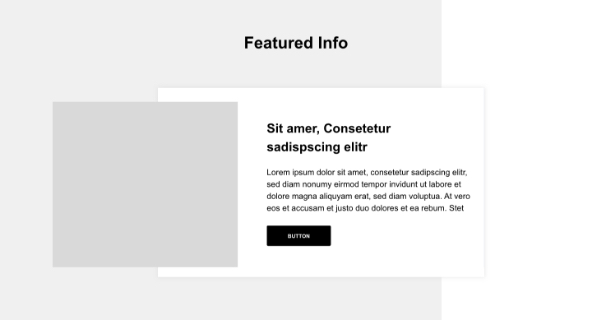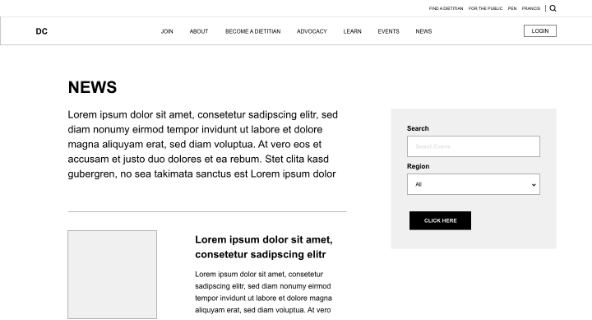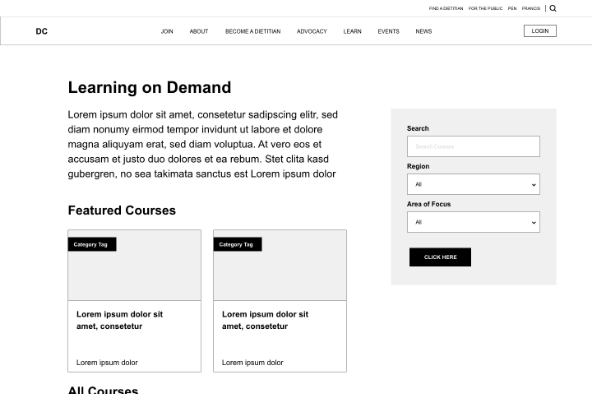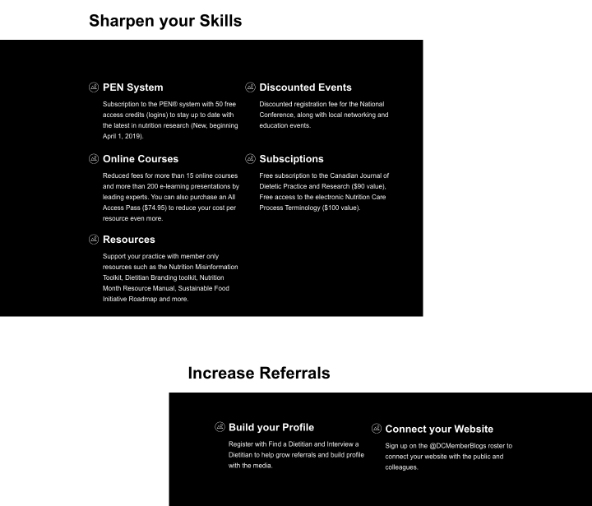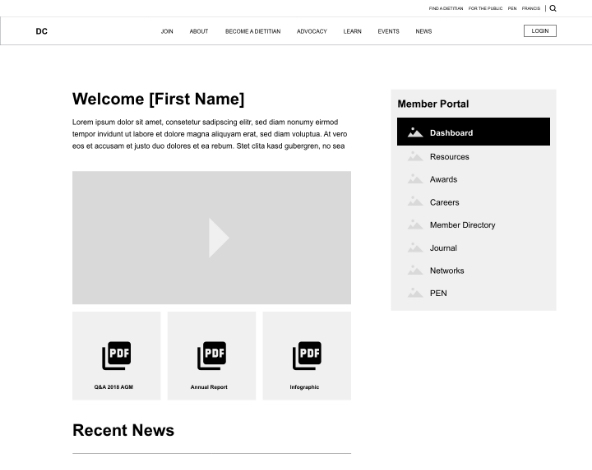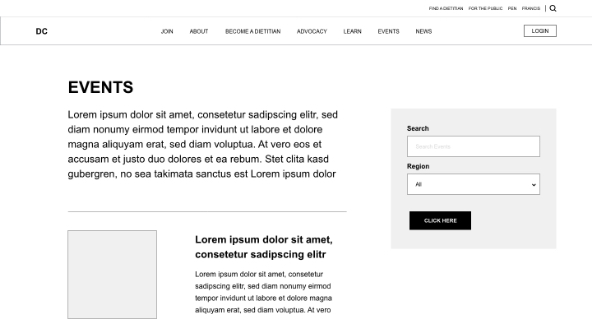 Design
The information architecture was restructured according to user goals and redundant items were consolidated. A review of Dietitian's objectives allowed us to line up and categorize content in a way that lined up with their digital strategy as well as provide the foundation for their user experience design.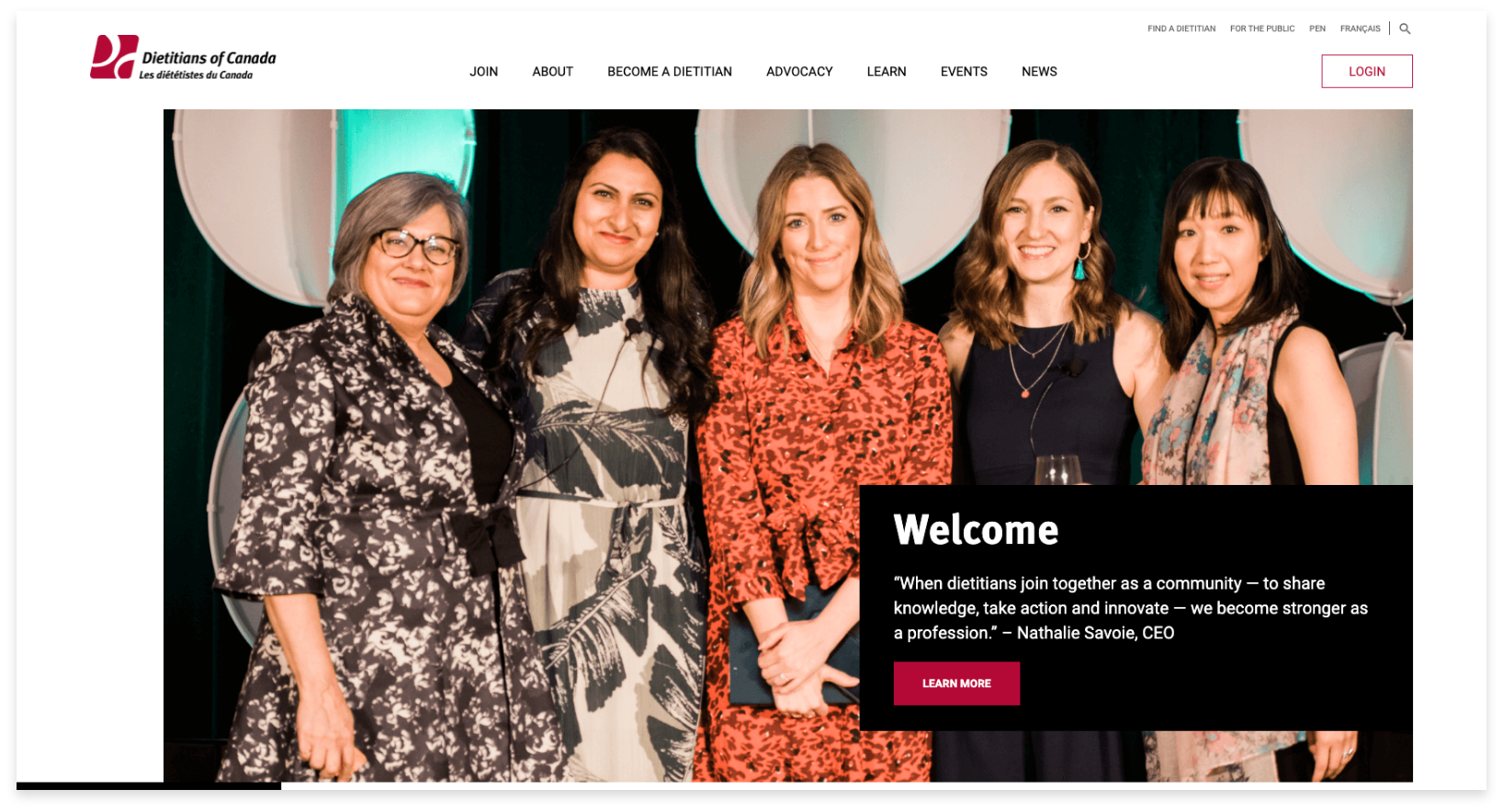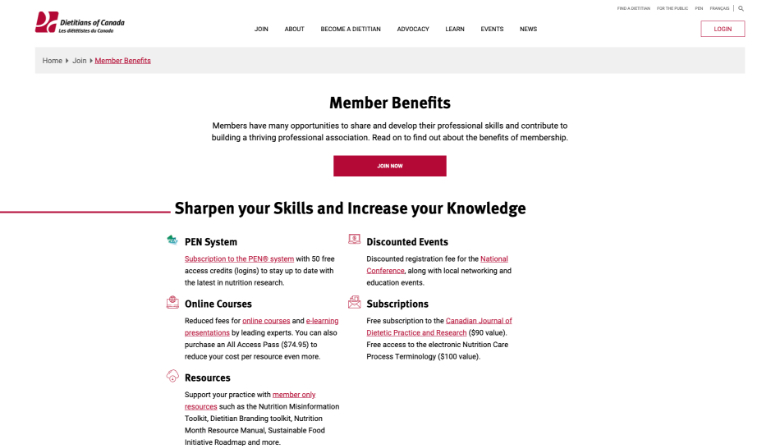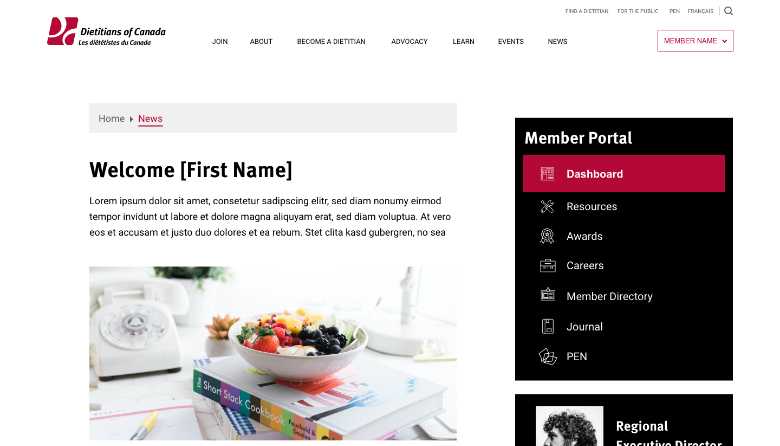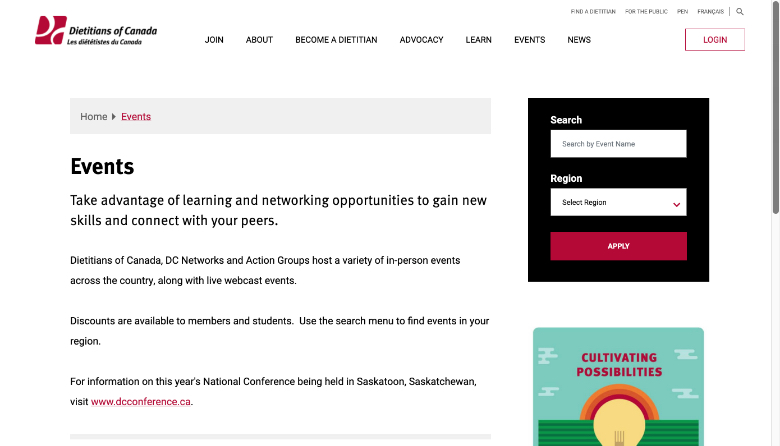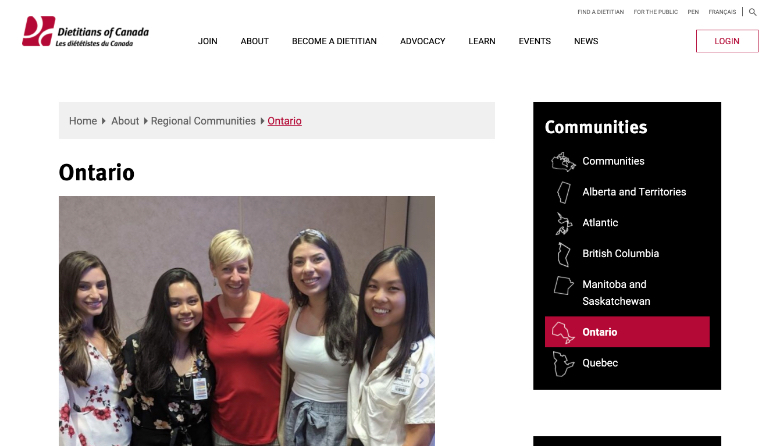 To accomplish the Single Sign-on needs of the project we implemented a custom membership sync that runs periodically. The sync creates new Salesforce accounts as Kentico users and saves all Salesforce specific details that will allow a member's account to authenticate and display member specific information. The sync is also initiated by user login to make sure the website is up to date with any updates that have been made through the either environment.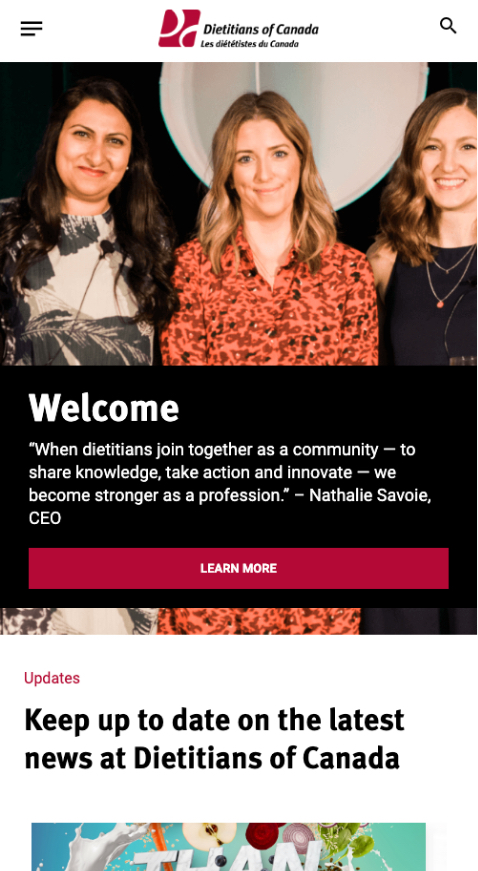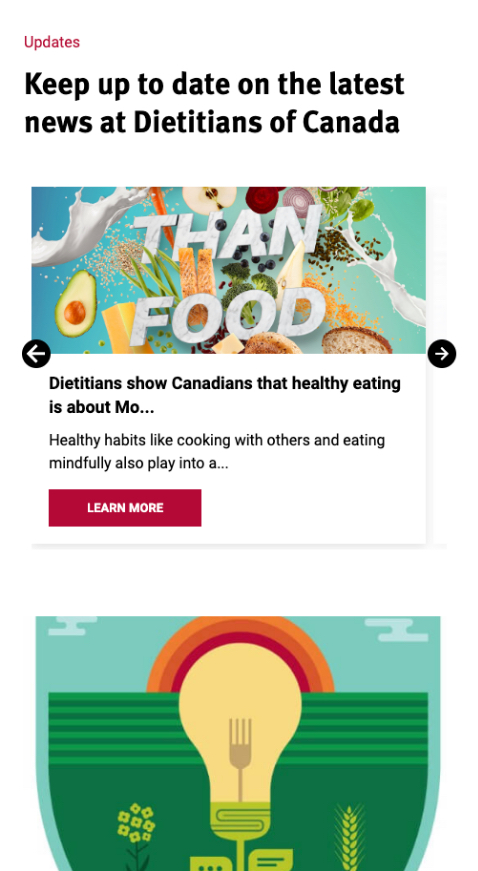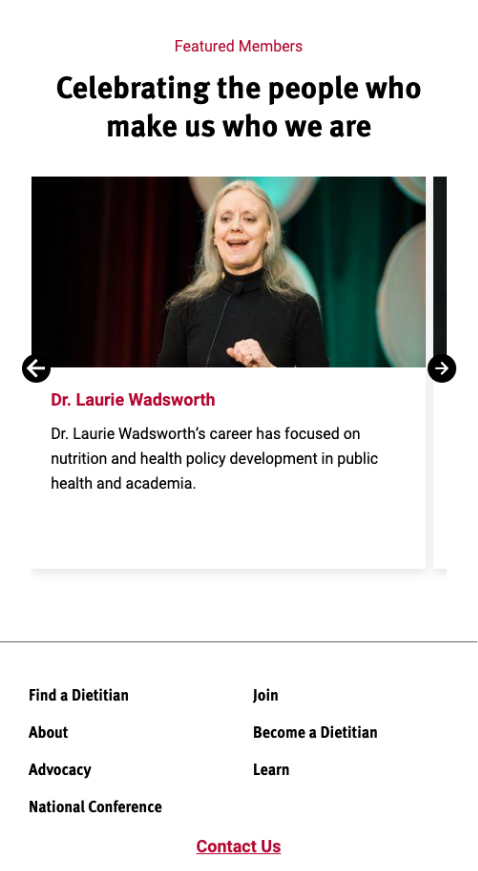 Results
The new Dietitians website was successfully integrated with their Saleforce user and membership database. The website provided a membership dashboard for members to access member pages tailored to their assigned roles. It also allowed all members access to members only content such as webinars, recorded lectures and documents.
A new digital home for our members was a space that was forward thinking, modern, attractive, easy to navigate and search and with improved tools to support members professional developement and practice needs.
Key Criteria for Using Kentico
Kentico was chosen for the new Dietitians website because it provided an integration solution with their existing set up, allowed for the ability to expand into different microsites, and it was seen as relatively easy to use from a content editing perspective.
Project Details
Strategy, Content Guidelines, UX Design and Development built with Kentico EMS.
Features: Accessible, Bilingual with SalesForce integration and single-sign-on.
Launched: January 2020 Site of the Month